Hop-Along Marshmallow Bunnies
By
Paula Deen
JUMP TO RECIPE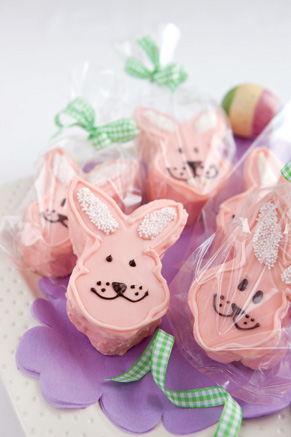 Difficulty: Medium
Prep time: 30 minutes
Cook time: 30 minutes
Servings: 30
Ingredients
1/2 cup cold water
2 tablespoons plus 1/2 teaspoon unflavored gelatin
2 cups sugar
1/2 cup light corn syrup
1/2 cup hot water
1/4 teaspoon salt
2 large egg whites
1/2 teaspoon vanilla extract
1 teaspoon raspberry extract
1/8 teaspoon red food coloring
2 (14 oz) bags pink candy melts
1/4 cup all-vegetable shortening
2 (1 oz) squares melted bittersweet baking chocolate
2 (1 oz) squares melted white baking chocolate
white nonpareil sprinkles
Directions
Lightly spray a 13×9-inch glass baking dish with nonstick cooking spray.
In a small bowl, place cold water. Sprinkle gelatin over water, and let stand for 5 minutes to soften.
In a heavy saucepan, combine sugar, corn syrup, hot water and salt. Cook over medium heat, stirring constantly, until sugar dissolves. Cook, without stirring, until mixture reaches 240 °Fš on a candy thermometer. Remove from heat, and add gelatin mixture, whisking to combine; set aside.
In the bowl of a heavy-duty stand mixer fitted with a whisk attachment, beat egg whites on high speed until stiff peaks form. With mixer running, slowly add gelatin mixture in a steady stream. Add extracts and food coloring; continue beating for 10 minutes.
Pour marshmallow mixture evenly into prepared baking dish. Cover marshmallow with a piece of parchment paper sprayed with nonstick cooking spray. Chill for 8 hours or overnight.
Remove parchment paper, and invert marshmallow onto a cutting board. Using a 4-inch bunny cutter, cut bunnies from marshmallow, reserving scraps for Confetti Cereal Bars, if desired. Place bunnies on a parchment-lined pan, and freeze for 30 minutes.
In a large microwave-safe bowl, combine candy melts and shortening. Melt according to package directions; cool slightly. Using a slotted spoon, roll chilled bunnies in melted candy melts. Place on parchment paper to dry. Once dry, decorate bunnies as desired with melted chocolates and white nonpareil sprinkles.
Note: Hop-Along Marshmallow Bunnies can be wrapped tightly and stored in the freezer for up to 1 month. Allow bunnies to come to room temperature before serving. We used Wilton candy melts. They can be purchased in the cake decorating section of craft stores.