Buffalo Chicken Sliders
By
Paula Deen
JUMP TO RECIPE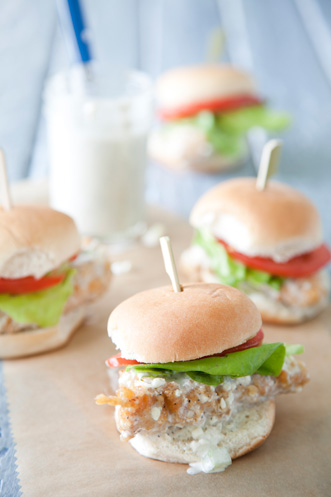 Difficulty: Easy
Prep time: 15 minutes
Cook time: 7 minutes
Servings: 4-6
Ingredients
1 cup mayonnaise
1/2 cup crumbled blue cheese
1/3 cup chopped celery
2 tablespoons white vinegar
1/4 teaspoon salt
1/4 teaspoon black pepper
3 eggs
1/2 cup hot sauce
1/2 lb pounded to 1/2-inch thickness boneless chicken breasts tenders
2 cups self rising flour
12 slider buns
12 slices optional tomato
12 optional lettuce leaves
for frying peanut oil
Directions
In a medium bowl, combine the mayonnaise, blue cheese, celery, vinegar, salt and pepper in a medium-sized bowl. Cover and refrigerate until ready to serve.
In a deep-fryer or heavy-bottomed pot, heat enough peanut oil to come halfway up the sides of the pot, to 350º.
In a medium-size bowl, beat the eggs with the hot sauce. Season the chicken with salt and pepper, to taste. Dip the chicken in the egg mixture and then coat in flour. Fry the chicken for 6 to 8 minutes.
Toss the chicken into the blue cheese sauce. Put 1 piece of chicken on the bottom half of each bun. Top with tomato and lettuce, if desired. Cover with the bun tops and serve immediately.