Buffalo Chicken Livers with a Blue Cheese Dipping Sauce
By
Paula Deen
JUMP TO RECIPE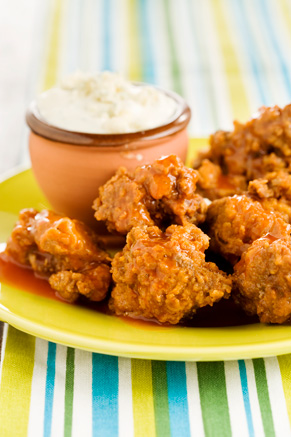 Difficulty: Medium
Prep time: 10 minutes
Cook time: 12 minutes
Servings: 4
Ingredients
1 cup all purpose flour
1 tsp. salt
1/2 tsp. garlic powder
1/2 tsp. cayenne pepper
1/4 tsp. black pepper
1 cup butter
1/2 cup Paula Deen Hot Sauce
1 lb soaking in milk chicken livers
1 cup prepared blue cheese dressing
4 oz crumbled blue cheese
Directions
PreHeat – 375°F dutch oven
In a zip lock bag, combine flour, salt, paprika, garlic powder, and peppers. Place the chicken livers in the bag and shake gently until coated.
In a small saucepan, heat butter and hot sauce just until butter melts; keep warm until ready to use.
Heat oil in a deep fryer or dutch oven to a temperature of 375º F. Deep-fry livers, 8 – 10 pieces at a time for 10-12 minutes, turning once or twice.
Drain livers on a paper towel lined baking sheet for 30 seconds. Transfer buffalo sauce to a large mixing bowl, then immediately toss fried livers in the buffalo sauce and remove with a slotted spoon.
Repeat with remaining livers.
For the Dipping sauce:
In a small bowl, stir together the prepared blue cheese dressing and the crumbled blue cheese.