Bubba's Tiny Chocolate Key Lime Pies
By
Bubba Hiers
JUMP TO RECIPE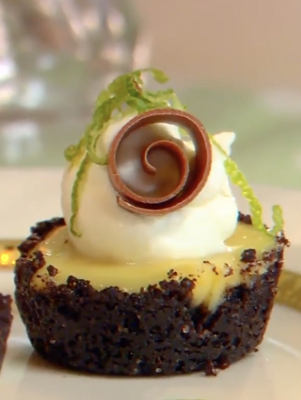 Difficulty: Easy
Prep time: 45 minutes
Cook time: 25 minutes
Servings: 30 tiny pies
Ingredients
1 1/2 sticks melted, plus more for greasing pans butter
2 cups made into crumbs chocolate wafer cookies
3/4 cup sugar
1 (14 oz) can sweetened condensed milk
1/4 cup or regular lime juice fresh key lime juice
3 lightly beaten egg yolks
2 zest finely grated (or 1 regular lime) key limes
1 teaspoon vanilla extract
1 pinch salt
1 cup heavy cream
1/4 cup confectioner's sugar
cut into curls, for garnish milk chocolate
Directions
Preheat the oven to 325 °F. Lightly brush 30 cups of mini-muffin pans with melted butter. Fill the unused cups halfway up with water.
In a medium bowl, combine the cookie crumbs, melted butter and sugar. Press about 1 tablespoon of the cookie mixture into each mini-muffin cup, making sure there are no cracks. Bake for 8 to 10 minutes.
In a large bowl, whisk together the condensed milk, key lime juice, egg yolks, lime zest, vanilla extract and salt. Spoon 1 even tablespoon of filling into each warm crust. Bake the pies until the filling is set, about 12 minutes.
Transfer the muffin pans to a cooling rack and let stand for 20 minutes at room temperature. Use a small offset spatula or butter knife to carefully unmold the pies from the pans. When the pies are completely cool, top each with a dollop of whipped cream and decorate with a milk chocolate curl. Store untopped pies, wrapped or in an airtight container, in the refrigerator.
Paula's Sweetened Whipped Cream:
In a medium bowl whip the cream and sugar together until soft peaks form.