Broccoli Sausage Casserole
By
Laurie McGovern, Prizewinning Plates Winner
JUMP TO RECIPE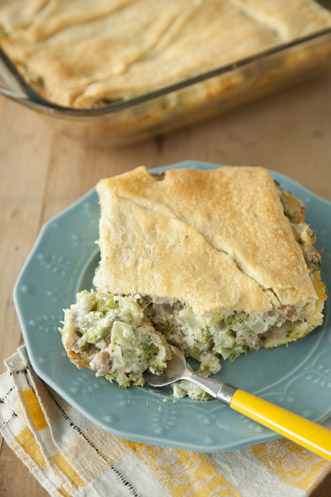 Difficulty: Easy
Prep time: 30 minutes
Cook time: 45 minutes
Servings: 10
Ingredients
2 packages frozen chopped broccoli
1 to 2 lbs (5 links) casing removed and crumbled sausage
1/4 teaspoon garlic salt
1 beaten egg
2/3 to 3/4 cup milk
shredded mozzerella cheese
2 to 3 tablespoons all purpose flour
1 to 2 medium finely chopped onions
2 packs keep refrigerated until using refrigerated crescent rolls
3 to 6 oz softened cream cheese
Directions
Preheat oven to 350 °F.
Cook sausage and onions until brown, drain fat. When cool, crumble sausage and put back into cooking pan. (A cast iron skillet works well.)
Meanwhile, place frozen broccoli in a microwave-safe bowl and microwave until fully thawed. Squeeze and drain really well, pressing out all the moisture. Add garlic salt and flour to sausage and mix. Mix in cream cheese, then add milk. (Start with 2/3 cup and add additional as needed.) Mix gradually. Stir in egg and broccoli.
Line the bottom of a 13×9 pan with 1 pack of crescent rolls, with fingers gently spread to cover bottom of pan and slightly up sides of dish. Be careful not to spread too thinly. Add mixture then top with shredded mozzarella cheese. Top with second pack of crescent rolls and again, very gently spread to cover and push slightly into sides of dish. Prick the top with fork as you would a pie. Brush the top with milk, and bake 40-45 minutes at 350 °F.
Remove from oven and let cool 10 minutes. Serve.
Note: When ready to line baking dish, pull 1 pack out of refrigerator/ do not pull second pack until actual moment of use. Crescent rolls spread best when cold.