Bourbon Beef Tenderloin
By
Paula Deen
JUMP TO RECIPE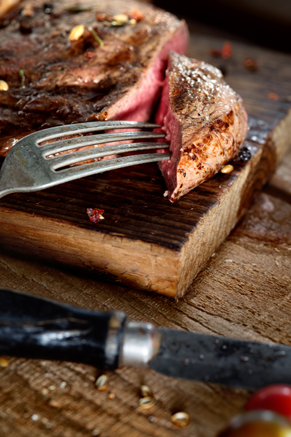 Difficulty: Easy
Prep time: 1 hour
Cook time: 30 to 45 minutes
Servings: 8 to 10
Ingredients
3 to 4 sprigs chopped fresh thyme
2 cups water
1 tablespoon Worcestershire sauce
1/2 cup lemon juice
1 bunch chopped fresh cilantro
1 cup brown sugar
2/3 cup soy sauce
1 cup bourbon
1 (5 lb) silver connective tissue removed beef tenderloin
to brush on grill oil
Directions
Preheat grill or oven to 350 °F.
Prepare marinade by combining the bourbon, brown sugar, soy sauce, cilantro, lemon juice, Worcestershire sauce, water and thyme in a bowl. Make sure the tenderloin has been cleaned and the tissues has been removed. Fold the tail end of the beef back underneath itself so that it is of uniform thickness and secure with butcher's string. Place meat in a dish and pour marinade over meat, cover, and refrigerate for approximately 8 to 12 hours turning meat over several times.
>
When grill is ready, place meat on oiled surface and reserve the liquid from the marinade. Cook over high heat with lid closed, turning meat often and occasionally basting. The tenderloin will cook to rare in approximately 30 to 45 minutes.
Serve with horseradish cream on the side.