Roast Lamb with Bourbon and Mint
By
Paula Deen
JUMP TO RECIPE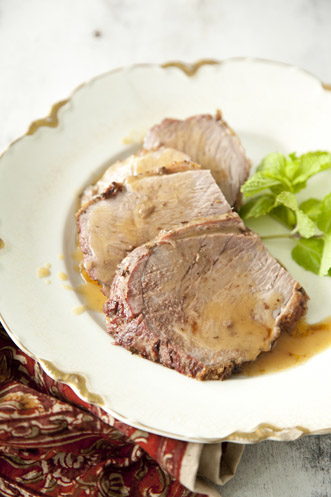 Difficulty: Easy
Prep time: 20 minutes
Cook time: 125 minutes
Servings: 15
Ingredients
Roast Lamb
1 small whole leg of lamb (about 7 pounds)
1/2 cup chopped fresh mint or 1/4 cup crumbled dried mint
1/2 cup bourbon
Salt
freshly ground black pepper
Madeira Pan Gravy
1/2 cup Madeira
2 cups beef or lamb broth
2 tablespoons unsalted butter, cut into bits
Directions
Roast Lamb
Position a rack in the center of the oven and preheat to 500 degrees F. Trim the excess fat from the lamb, but leave a thin layer of at least 1/8 inch. Wipe dry and liberally rub it with salt and several generous grindings of black pepper, then pack the mint over the entire surface. Lightly butter the bottom of a roasting pan and put in the lamb, fat side up.
Roast in the center of the oven for 20 minutes, or until well-seared and lightly browned. Remove and pour the bourbon over it. Return it to the oven, reduce the heat to 375 degrees F. and roast, basting occasionally with pan juices, until done to your taste, from 15 minutes per pound for medium-rare to 25 minutes per pound for medium well.
Madeira Pan Gravy
Put the roasting pan over direct medium high heat. Add 1/2 cup Madeira and bring it to a boil, stirring and scraping the pan to loosen any cooking residue. Boil 1 minute and add the broth and pan juices. Bring to a vigorous boil and cook until reduced by about half, about 3 to 5 minutes.
Turn off the heat and swirl or whisk in the butter until it is incorporated. Taste and adjust the seasonings and pour into a warmed sauceboat.