Bobby's Lighter Baked French Toast Casserole
By
Bobby Deen
JUMP TO RECIPE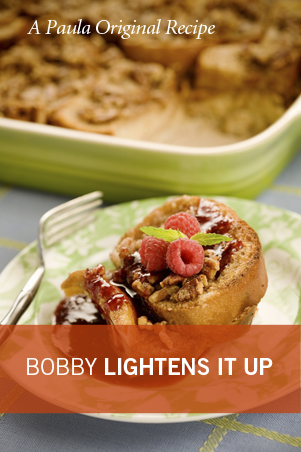 Difficulty: Easy
Prep time: day ahead
Cook time: 45 minutes
Servings: 12
Ingredients
3 cups low fat milk
1 (12.5 oz) loaf cut into 18 slices (3/4-inch-thick slices) whole-wheat French bread
1 cup fat free half and half
3 large eggs
2 egg whites
2 tablespoons granulated sugar
2 teaspoons vanilla extract
1 1/2 teaspoons ground cinnamon
1/4 teaspoon ground nutmeg
1/2 cup packed light brown sugar
1/4 cup chopped pecans
3 tablespoons light stick butter
1 1/2 cups light raspberry syrup
Directions
Spray a 9 x 13-inch baking dish with nonstick spray. Arrange bread slices in the baking dish.
Whisk together the milk, half and half, eggs, egg whites, granulated sugar, vanilla, 1 teaspoon cinnamon and nutmeg in a large bowl. Pour the milk mixture over the bread slices, coating the bread slices evenly with the liquid. Spoon some of the mixture in between the slices. Cover with plastic wrap and refrigerate at least 8 hours or overnight.
Preheat the oven to 350º.
To make the topping, combine the brown sugar, pecans, butter, and the remaining 1/2 teaspoon cinnamon in a medium bowl. Sprinkle the topping evenly over the bread. Bake, uncovered, until puffed and golden, about 45 minutes. Serve with the syrup.