Bobby's Lighter Apple Pies
By
Bobby Deen
JUMP TO RECIPE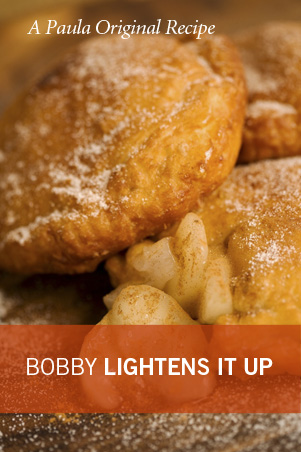 Difficulty: Easy
Prep time: 35 minutes
Cook time: 40 minutes
Servings: 8
Ingredients
4 teaspoons butter
3 peeled, cored, and sliced Mcintosh apples
3 tablespoons sugar
1/2 teaspoon ground cinnamon
1 teaspoon lemon juice
1/2 (15 oz) package refrigerated pie crust
2 tablespoons confectioner's sugar
Directions
Preheat the oven to 400 °F. Spray a large sheet tray with nonstick spray.
Heat the butter in a large nonstick skillet over medium heat until melted. Add the apples, sugar, cinnamon and lemon juice. Cook, over medium heat, stirring occasionally, until the apples are soft, 10€-15 minutes. Remove from the heat; let the filling cool 15 minutes.
Cut the pie crust roll into 8 (1 1/4-inch) pieces. On a lightly floured surface, roll each piece into a 5-inch round. Spoon 2 tablespoons filling slightly off center of each round. Fold each round over the filling to make a half-moon shape. Seal by pressing the edges with the tines of a fork. Prick the top of each pie two or three times to vent. Bake until golden, about 20 minutes. A little of the filling may bubble out. Cool on the baking sheet on a rack 5 minutes. Sprinkle with powdered sugar while still warm. Serve warm or at room temperature.