Bobby's Lighter Carrot Cake
By
Paula Deen
JUMP TO RECIPE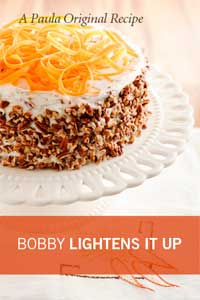 Difficulty: Easy
Prep time: 30 minutes
Cook time: 45 minutes
Servings: 12
Ingredients
2 cups cake flour
2 teaspoons baking powder
1 1/2 teaspoons ground cinnamon
1 teaspoon baking soda
1/2 teaspoon salt
2 large at room temperature eggs
2 at room temperature egg whites
1/2 cup sugar
1/2 cup apple butter
1/4 cup canola oil
2 cups grated, about 3 carrots carrots
1 (8 oz) can drained crushed pineapple
1 (8 oz) package reduced-fat cream cheese
1 1/2 cups confectioner's sugar
1/4 cup plain Greek yogurt
1 tablespoon grated lemon zest
1 tablespoon lemon juice
3/4 teaspoon vanilla extract
1/4 cup chopped pecans
Directions
Preheat the oven to 350º degrees. Spray two 8-inch round cake pans with nonstick spray. Line with wax-paper rounds; spray with nonstick spray.
Combine the flour, baking powder, cinnamon, baking soda and salt in a medium bowl.
Beat the eggs and egg whites in a large bowl using a hand mixer until thickened, about 2 minutes.
Gradually add the sugar, beating until light and fluffy, about 2 minutes. Beat in the apple butter and oil just until blended. Add the flour mixture and beat just until blended.
Stir in the carrots and pineapple.
Divide the batter evenly between the pans. Bake until a toothpick inserted into the center comes out clean, 30-35 minutes.
Let cool in the pans on racks 10 minutes. Invert the layers onto racks and remove the wax paper; let cool completely.
For the frosting: Add cream cheese, confectioner's sugar, yogurt, lemon juice, zest and vanilla, into a medium bowl and beat until fluffy using a hand mixer.
Place 1 cake layer on a serving plate. Spread 1/3 cup of the frosting over the layer. Top with the remaining layer. Spread the remaining frosting over the top and side of the cake. Sprinkle with the nuts.