Bobby's Light Banana Pudding
By
Deen Brothers
JUMP TO RECIPE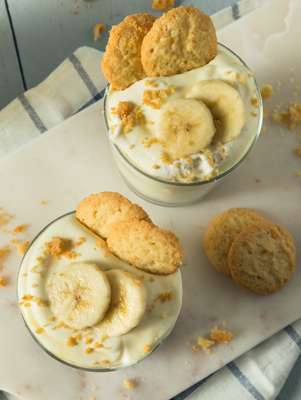 Difficulty: Easy
Prep time: 15 min, Inactive prep:12 hr 0 min
Cook time: 10 min
Servings: 8 to 10 servings
Ingredients
2 cups low-fat 1-percent milk
2 tablespoons unsalted butter
1/4 cup plus 2 tablespoons sugar
2 tablespoons cornstarch
1 tablespoon pure vanilla extract
1/4 cup heavy whipping cream
One-half 12-ounce box vanilla wafers
3 medium bananas
Directions
Combine the milk and butter in a medium saucepan over medium-low heat, stirring gently to melt the butter.
Mix together 5 tablespoons of sugar and the cornstarch in a small bowl. Add 2 tablespoons water and mix to create a paste, and then whisk into the milk mixture. Raise the heat to medium and cook, stirring, until thick and bubbly, 7 to 10 minutes. Remove from the heat and stir in the vanilla extract.
Transfer to a bowl, cover with plastic wrap (make sure the plastic is touching the pudding to prevent a skin from forming) and refrigerate for at least 4 hours.
Combine the whipping cream with the remaining 1 tablespoon sugar in a bowl. Beat with an electric mixer until stiff peaks form. Set aside.
Create a layer of wafers on the bottom of an 8- by 8-inch dish, and then add a layer of bananas and a layer of pudding. Repeat to make a second layers. Top with whipped cream. Cover and refrigerate for 8 hours or overnight before serving.