Blueberry Cream Pie
By
Paula Deen
JUMP TO RECIPE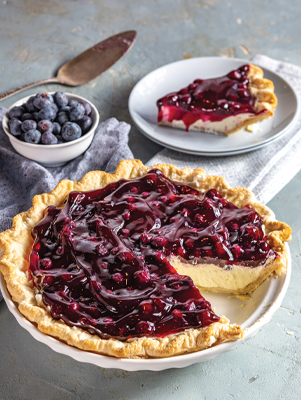 Featured in:
Love & Best Dishes
Difficulty: Easy
Prep time: 15 minutes
Cook time: 8 to 9 minutes
Servings: Makes 1 (9-inch) Pie
Ingredients
½ (14.1-ounce) package refrigerated pie crusts, thawed
¾ cup chopped pecans or walnuts
2 (3-ounce) packages cream cheese, room temperature
1 cup confectioners' sugar
1 cup heavy whipping cream
¼ cup granulated sugar
1 (21-ounce) can blueberry pie filling
Directions
Preheat oven to 425˚F.
On a lightly floured surface, unroll piecrust. Roll into a 12-inch circle. Transfer to a 9-inch pie plate, pressing into bottom and up sides. Fold edges under, and crimp as desired. Lightly press nuts into bottom of prepared crust.
Bake for 8 to 9 minutes or until golden brown. Let cool completely.
In a large bowl, beat cream cheese and confectioners' sugar with a mixer at medium speed until combined.
In a medium bowl, beat cream and granulated sugar with a mixer at medium-high speed until soft peaks form. Fold whipped cream mixture into cream cheese mixture. Spoon into cooled crust, and refrigerate for at least 1 hour. Top with blueberry pie filling. Refrigerate until well chilled before serving.