Black-Eyed Pea Dip
By
Paula Deen
JUMP TO RECIPE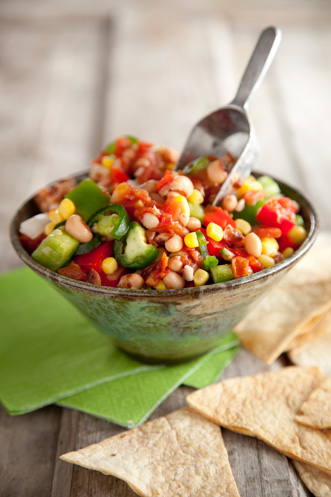 Difficulty: Easy
Prep time: 15 minutes
Servings: 6-8
Ingredients
2 (15 oz) cans drained black eyed peas
1 (15 oz) can drained whole kernel corn
1 (10 oz) can chopped spicy canned tomatoes
1 cup chopped red bell pepper
1 cup chopped green bell pepper
2 to 3 tablespoons chopped fresh jalapeño peppers
1/4 cup chopped yellow onion
1 (4 oz) jar chopped and drained pimentos
1/2 cup red wine vinegar
1 tablespoon balsamic vinegar
1 teaspoon salt
1/2 teaspoon freshly ground black pepper
1 tablespoon dijon mustard
1/4 teaspoon sugar
1/2 cup olive oil
1/2 cup vegetable oil
for serving corn chips
pinch dried oregano
Directions
In a large bowl, combine the black-eyed peas, corn, tomatoes, red, green and jalapeño peppers, onion and pimentos.
In a glass jar with a tight-fitting lid, combine the wine and balsamic vinegars, salt, pepper, mustard, sugar, oregano and olive and vegetable oils. Shake until the ingredients are blended.
Add the dressing to the pea mixture and stir gently but thoroughly. Cover and refrigerate until serving time.