Beer in the Rear Chicken and BBQ Sauce
By
Paula Deen
JUMP TO RECIPE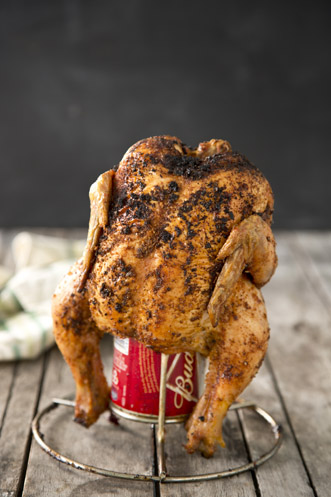 Difficulty: Medium
Prep time: 20 minutes
Cook time: 1 hour 30 minutes
Servings: 4-5
Ingredients
1 (12 oz) can light beer
2 tablespoons recipe follows dry rub
5 lb rinsed and patted dry whole chicken
2 teaspoons salt
2 teaspoons sweet paprika
2 teaspoons plus 2 tablespoons for sauce brown sugar
1 teaspoon celery salt
1 teaspoon dried oregano
1 teaspoon dry mustard
1 teaspoon black pepper
1 teaspoon ground cumin
1 teaspoon garlic powder
1 teaspoon chili powder
3/4 cup finely chopped onion
2 teaspoons minced garlic
2 tablespoons vegetable oil
1 teaspoon plus a pinch for the rub cayenne pepper
1/2 cup ketchup
2 tablespoons yellow mustard
1/2 cup apple cider vinegar
2 tablespoons lemon juice
1/4 cup water
dash Worcestershire sauce
Directions
Preheat oven to 400 °F.
Set up your indoor/oven beer can chicken roaster according to manufacturer's instructions. Rub the chicken all over with the dry rub making sure to get some around the cavity opening as well. Put the rubbed chicken in place over the beer can, on top of a roasting pan. Place the chicken in the oven and roast for 30 minutes.
Lower the oven to 325 °F and roast for 90 minutes basting with the chicken drippings and Barbecue Sauce until very, very tender. Carefully remove the chicken from the roaster and let rest 10 minutes before carving. Remove beer can from chicken. Serve with more Barbecue Sauce on the side.
Dry Rub:
Combine salt, sweet paprika, 2 teaspoons brown sugar, celery salt, oregano, dry mustard, pepper, cumin, garlic powder, chili powder and pinch cayenne pepper together. Store in an airtight container.
Barbecue Sauce:
In a medium saucepan over medium-high heat, sauté the onion and garlic in vegetable oil until soft. Add salt and pepper. Stir in 2 tablespoons brown sugar, cayenne pepper, ketchup, yellow mustard, cider vinegar, lemon juice, water and Worcestershire sauce and bring to a boil. Lower the heat and simmer 10 minutes.