Beer Brat Hoagies
By
Paula Deen
JUMP TO RECIPE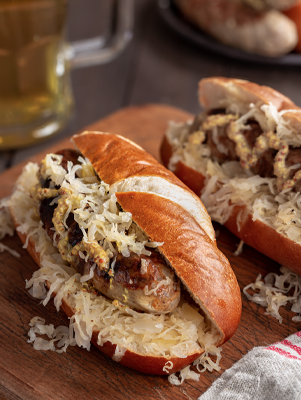 Difficulty: Easy
Prep time: 30 minutes
Cook time: 1 hour
Servings: 4
Ingredients
4 (about 2 lbs) bratwurst
4 cups beer
1 tablespoon Paula Deen House Seasoning
2 tablespoons butter
1 cored and sliced red bell pepper
1 sliced Vidalia onion
to taste kosher salt
to taste black pepper
1 cup sauerkraut
4 split lengthwise crusty hoagie rolls
for serving yellow mustard
for serving mayonnaise
Directions
Use a paring knife to prick the sausages all over. Add to a medium sized pot, cover with beer and toss in a tablespoon of house seasoning.
Bring to a boil, then reduce to a simmer, and cook for 15 minutes, until the sausages are cooked through and firm. Remove the bratwurst to a plate.
Meanwhile, add butter to a large sauté pan over medium high heat. Once melted add the onion and bell pepper and sauté until very soft, about 15 minutes. Season the mixture with salt and pepper. Add the bratwurst to the pan in the last few minutes of cooking.
Heat the sauerkraut in the microwave or in a saucepan placed over medium heat.
Serve the brats on hoagie rolls with sauerkraut and peppers and onions. Add yellow mustard and/or mayonnaise if you wish.