Midwestern-Style Beer Brats
By
Deen Brothers
JUMP TO RECIPE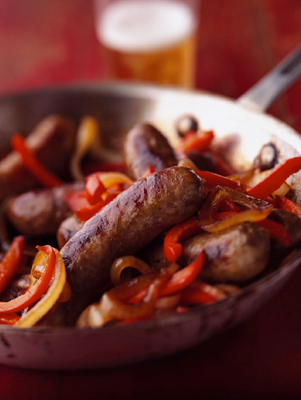 Featured in:
The Deen Bros. Recipes from the Road
Difficulty: Easy
Prep time: 10 minutes
Cook time: 15 minutes
Servings: 6
Ingredients
6 bratwurst
6 cups lager beer
2 large onions, sliced
1 tablespoon olive oil
2 red or green bell peppers, cored and siced
salt
freshly ground black pepper
bratwurst buns or hoagie rolls, split lengthwise
mustard
Directions
Prick the bratwurst all over with a fork. In a medium pot, combine the bratwurst, beer, and half the onions. Bring to a simmer over medium-high heat. Simmer about 15 minutes or until bratwurst are firm and cooked through. Transfer the bratwurst to a plate. Reserve some of the cooking liquid.
Meanwhile, in a large skillet, heat the oil over medium-high heat. Add the remaining onions and the bell peppers. Cook about 15 minutes or until very soft, tossing occasionally. Add the bratwurst to the skillet in the last 5 minutes of cooking to lightly brown. If the vegetables begin to get too dark, add a few tablespoons of the bratwurst cooking liquid. Season to taste with salt and black pepper.
To serve, spread each bun with mustard. Fill each bun with a brat. Top with sautéed peppers and onions.