Basic Shortcakes
By
Paula Deen
JUMP TO RECIPE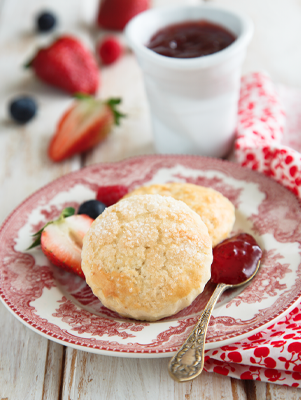 Difficulty: Easy
Prep time: 15 minutes
Cook time: 12 minutes
Servings: 6
Ingredients
2 1/2 cups all purpose flour
2 tablespoons granulated sugar
1 tablespoon baking powder
1/8 teaspoon salt
6 tablespoons cold, cut into ½-inch pieces butter
2/3 cup plus 2 tablespoons, divided buttermilk
3 tablespoons turbinado sugar
Directions
1. Preheat oven to 450 °F. Line a baking sheet with parchment paper.
2. In a large bowl, stir together flour, sugar, baking powder and salt. Using a pastry blender or 2 knives, cut in butter until mixture resembles coarse crumbs.
3. Stir in 2/3 cup buttermilk. Dough will be quite crumbly. Turn out onto a work surface, and knead until dough comes together, about 2 minutes. Roll out to 1-inch thickness. Using a 2¾-inch round cutter, cut out 6 circles, re-rolling dough as necessary.
4. Place circles on prepared baking sheet. Brush with remaining 2 tablespoons buttermilk; sprinkle with turbinado sugar. Bake for 12 minutes or until golden brown. Cool on a wire rack.