Banana Split Cupcakes
By
Paula Deen
JUMP TO RECIPE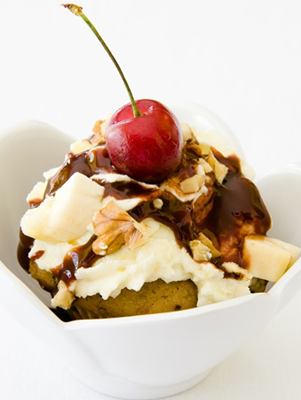 Difficulty: Easy
Prep time: 25 minutes
Cook time: 25 minutes
Servings: 18
Ingredients
1/2 cup room temperature unsalted butter
1 1/4 cup divided sugar
2 large eggs
1/2 cup strawberry yogurt
1 teaspoon baking soda
2 cups all purpose flour
1 cup mashed about 2 bananas, plus 1/2 cup thinly sliced bananas
1/2 cup macerated strawberries
1/2 cup loosely chopped dried pineapple pieces
1/2 cup chocolate chips
1 cup loosely chopped, divided walnuts
1 cup heavy whipping cream
1 over-ripe mashed* banana
to taste chocolate syrup
18 pitted cherries
Directions
For the Cupcakes:
Preheat oven to 350º.
Cream butter and 1 cup sugar in a large bowl.
Mix in eggs, yogurt, flour and baking soda.
Stir in 1 cup mashed bananas, strawberries, pineapple, chocolate chips and 1/2 cup walnuts.
Fill cupcake liners 3/4 full.
Bake for 25 minutes or until the tops bounce back when lightly touched.
For the Banana Whipped Cream Frosting:
Whip heavy whipping cream and 1/4 cup sugar until light and fluffy.
Mix in ripe banana until just combined.
Frost cupcakes.
Drizzle with chocolate syrup.
Top with walnuts, banana slices and a cherry.
*A non-ripened banana can be used by microwaving it for 45 seconds (or until it is soft but not liquid), then letting it return to room temperature.