Banana Nut Cake With Cream Cheese Frosting
By
Paula Deen
JUMP TO RECIPE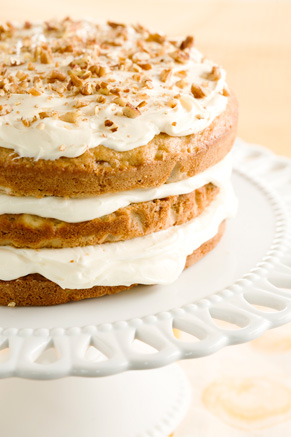 Difficulty: Medium
Prep time: 30 minutes
Cook time: 1 hour 20 minutes
Servings: 15-18
Ingredients
3 cups all purpose flour , plus more for pans
2 cups sugar
1 teaspoon baking soda
1 teaspoon ground cinnamon
1/2 teaspoon salt
3 beaten eggs
3/4 cup vegetable oil
4 large ripe bananas , mashed
1 cup pecans , chopped
1 1/2 teaspoons vanilla extract
butter for greasing pan, at room temperature
Frosting
1 teaspoon vanilla extract
1 (8-ounce) package cream cheese , at room temperature
1 cup butter , at room temperature
1 pound confectioner's sugar , sifted
1/2 cup pecans , chopped
Directions
Cake
Butter and flour 3 (9-inch) round cake pans; set aside. Preheat oven to 350 °F.
In a mixing bowl, stir together the flour, sugar, baking soda, cinnamon and salt. Add the eggs and oil and stir just until the dry ingredients are moistened; do not beat. Stir in the banana, 1 cup pecans and 1 1/2 teaspoon vanilla. Divide the batter among the prepared pans and bake for 23 to 28 minutes, or until a wooden pick inserted in the center comes out clean. Cool the cake layers in the pans for 10 minutes, and then turn them out onto a rack to cool completely. While the cake cools, make the frosting.
Frosting
In a bowl, blend together the cream cheese and butter. Gradually add the confectioner's sugar and beat until light and fluffy. Beat in 1 teaspoon vanilla. Stir in 1/2 cup pecans, or reserve them to sprinkle over the frosted cake. Fill and frost the cake when it is completely cool.
This makes enough for a naked cake. To make enough to frost the entire cake, multiply ingredients by 1.5.