Banana-Date Nut Bread
By
Deen Brothers
JUMP TO RECIPE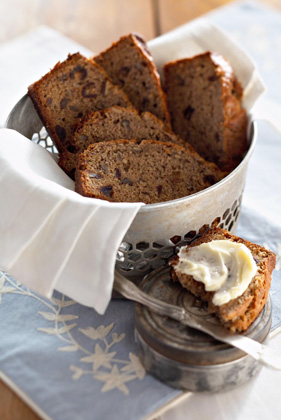 Featured in:
The Deen Bros. Y'all Come Eat
Difficulty: Easy
Prep time: 15 minutes
Cook time: 1 hour
Servings: 1 loaf
Ingredients
1/2 cup 1 stick unsalted butter
2 cups All-purpose flour
2 teaspoons ground cinnamon
1 teaspoon baking powder
1/2 teaspoon baking soda
1/2 teaspoon salt
1/4 teaspoon ground nutmeg
3 ripe bananas
1 cup sugar
2 large eggs
1 teaspoon vanilla
1/2 cup coarsely chopped dried dates
1/2 cup coarsely chopped pecans
Directions
Preheat oven to 350°F. Butter a 9×5-inch loaf pan; set aside.
In a large bowl, whisk together the flour, cinnamon, baking powder, baking soda, salt, and nutmeg. In a separate bowl, whisk together the 1/2 cup melted butter, the bananas, sugar, and eggs. Stir in the vanilla. Stir the banana mixture into the flour mixture until just combined. Fold in the dates and pecans.
Pour the batter into the prepared pan. Bake about 1 hour or until dark golden on top and a knife inserted in the center of the loaf comes out clean.