Banana-Coconut Soup
By
Paula Deen
JUMP TO RECIPE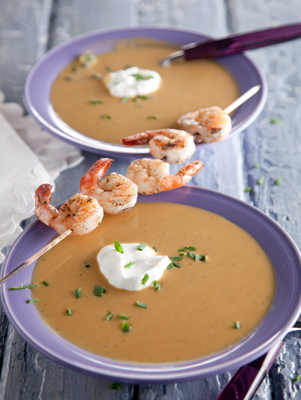 Difficulty: Medium
Prep time: 15 minutes
Cook time: 20 minutes
Servings: 7
Ingredients
2 cups coconut cream
4 cups vegetable stock
1 cup fresh orange juice
1 bunch leaves finely chopped cilantro
2 teaspoons ground cumin
1 teaspoon chili paste
3 cloves minced garlic
1/2 cup diced carrots
1/2 cup diced celery
1 cup diced onion
1 cup whites only, thinly sliced leeks
1 cup very ripe diced bananas
1/4 cup olive oil
skewered grilled optional shrimp
chopped optional chives
optional sour cream
Directions
Heat the oil in a heavy bottomed saucepot over medium-high heat.
Add the bananas, leeks, onion, celery, carrots, garlic, and chili paste. Season with salt and pepper. Sauté until caramelized. Stir in the cumin and cilantro. Deglaze with the orange juice. Pour in the stock, bring to a boil then lower the heat and simmer for 10 minutes.
Puree the soup either with a hand immersion blender or in batches in a food processor. Strain into another pot. Stir in the coconut cream and season to taste.
Garnish with skewered grilled shrimp, chopped chives and a small dollop of sour cream, if desired.