Baked Ham, Bacon, and Swiss Sandwiches
By
Paula Deen
JUMP TO RECIPE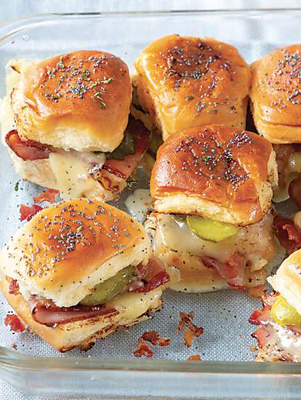 Featured in:
Cooking with Paula Deen Magazine
Difficulty: Easy
Prep time: 10 minutes
Cook time: 24 minutes
Servings: 12
Ingredients
3 tablespoons mayonnaise
1 (12-count) package Hawaiian dinner rolls, halved horizontally
12 thin slices deli ham
6 slices Swiss cheese, cut into fourths
6 slices cooked bacon, halved crosswise
12 slices dill pickle
⅓ cup unsalted butter, melted
1 tablespoon Dijon mustard
1 teaspoon poppy seeds
1 teaspoon garlic powder
½ teaspoon onion powder
½ teaspoon dried parsley
Directions
Preheat oven to 350˚F.
Spread mayonnaise onto bottom half of rolls, and top each with 1 slice ham, 2 pieces of cheese, 1 piece of bacon, 1 pickle slice, and top half of rolls. Arrange in a 13×9-inch baking dish.
In a small bowl, whisk together melted butter, mustard, poppy seeds, garlic powder, onion powder, and parsley. Drizzle sauce onto rolls; cover with foil.
Bake until cheese is melted, about 20 minutes. Uncover and bake until tops are lightly browned, 3 to 4 minutes more. Serve warm.