Cornbread, Leek and Bacon Pudding
By
Paula Deen
JUMP TO RECIPE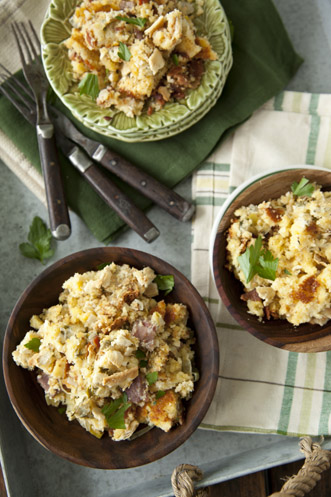 Difficulty: Medium
Prep time: 20 minutes
Cook time: 20 minutes
Servings: 20
Ingredients
10 slices cooked and crumbled bacon
8 oz diced ham
1/2 cup plus 2 tablespoons, and 1/2 cup melted for cornbread butter
1 1/4 cups chopped onion
1 cup chopped leeks
3/4 cup green onions
3 large lightly beaten eggs
2 cups heavy whipping cream
5 oz softened cream cheese
3 tablespoons chopped fresh parsley
2 tablespoons chopped fresh chives
1 tablespoon chopped fresh thyme
2 teaspoons fresh oregano
1 1/2 cups crushed saltine crackers
1 large for cornbread egg
2 cups whole buttermilk
2 cups self-rising yellow cornmeal
3 tablespoons dried chives
1/4 teaspoon salt
Directions
Preheat oven to 425 degrees. Generously butter a 13x9x2 inch baking dish.
In a large skillet, cook bacon until crispy; remove from pan, crumble and set aside, reserving grease. Add butter. Place over medium heat.
Add onion, leeks, and green onion and cook 6 to 8 minutes, or until tender. Remove from heat and set aside to cool.
Spoon half of cornbread crumbles into prepared baking dish; press down gently.
In a small bowl, whisk together eggs, heavy whipping cream, cheese, and chopped fresh herbs (mixture will be lumpy).
Pour ½ egg mixture over cornbread in prepared pan. Top with onion mixture. Sprinkle with crumbled bacon and ham. Add remaining cornbread crumbles, pressing down gently. Pour remaining half of egg mixture over cornbread. Set aside for 10 minutes to soak.
Top with crumbled crackers. Bake for 30 minutes or until set and golden brown. Allow to cool for 15 minutes before serving. Garnish with fresh oregano, if desired.
Cornbread:
Preheat oven to 450º. Lightly grease a 9-inch pan, place in oven to heat.
In a large bowl, lightly beat egg. Add buttermilk, cornmeal, chives and salt. Stir until ingredients are combined. Stir in melted butter. Pour mixture in hot pan.
Bake for 15 to 20 minutes, or until cornbread is golden brown and begins to pull away from the sides of the pan. Allow to cool in pan 20 minutes; remove to wire racks to cool completely. Cut cornbread into 1 inch cubes.
Cook's Note: This recipe is even better if you make the cornbread a day ahead.