Bacon Wrapped Shrimp
By
Deen Brothers
JUMP TO RECIPE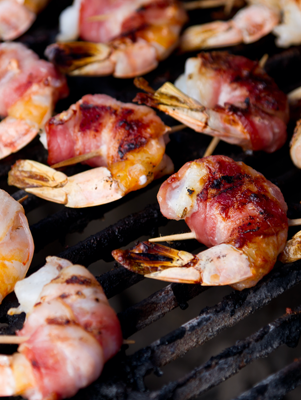 Difficulty: Easy
Prep time: 40 min
Cook time: 20 min
Servings: 3 dozen
Ingredients
12 pieces bacon
1/4 cup olive oil
2 clove s garlic
Zest of 1 lemon
2 pounds jumbo shrimp peeled and deveined
Kosher salt and freshly ground black pepper
3 tablespoons honey
3 tablespoons rooster sauce sriracha sauce
1/4 teaspoon smoked paprika
Directions
Preheat the oven to 400 degrees F. Line a sheet tray with foil. Heat the grill to medium-high heat.
Add the bacon to the sheet tray and bake until it's halfway done and not yet crisp, about 8 minutes. Remove the bacon to a paper towel-lined-sheet tray to cool completely and drain.
Whisk together the olive oil, garlic and lemon zest in a large bowl. Sprinkle the shrimp with salt and pepper and toss into the olive oil mixture. Let sit and marinate while the bacon cools, about 15 minutes.
Add the honey, rooster sauce and smoked paprika to a small bowl and stir together until blended. Reserve.
Once the bacon is cool, wrap each shrimp with the half slice of bacon and thread with a skewer. Thread the shrimp through the center of its body and through the bacon, securing it. Thread 3 shrimp per skewer.
Grill the shrimp until the bacon is crisp and the shrimp is opaque and cooked through, 3 to 4 minutes on each side. Brush the shrimp on both sides with the glaze the last 3 minutes of grilling.