Apple Stuffed Pork Loin
By
Paula Deen
JUMP TO RECIPE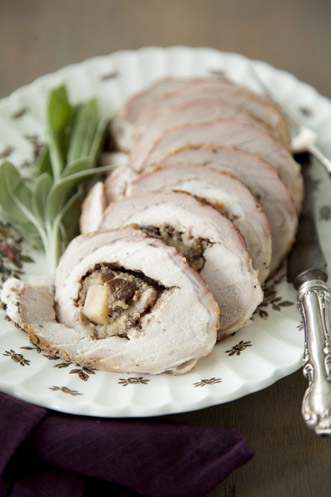 Difficulty: Medium
Prep time: 20 minutes
Cook time: 1 hour 15 minutes
Servings: 8
Ingredients
1 peeled and chopped Granny Smith apple
1 1/2 cups apple cider
1/4 cup raisins
2 tablespoons light brown sugar
1 teaspoon dry mustard
1/4 teaspoon ground ginger
1/3 cup coarsely chopped pecans
1 1/4 cups herb-seasoned cornbread stuffing mix
1 (3 lb) boneless pork loin roast
1 teaspoon plus 1/2 teaspoon salt
1 teaspoon divided onion powder
1 teaspoon ground, divided black pepper
Directions
Preheat the oven to 375 °F. Lightly spray a shallow baking pan with nonstick cooking spray.
In a small saucepan, combine the chopped apple, apple cider, raisins, brown sugar, mustard and ground ginger. Cook over medium-high heat until the apples begin to soften, 5 minutes. Stir in the pecans and stuffing mix. Set the mixture aside.
Lay the pork loin on a cutting board, fat side down. Using a sharp knife, slice the pork lengthwise down the center, cutting to, but not through, the other side. Open the butterflied portion, laying the pork flat. Slice each half lengthwise down the center, cutting to, but not through, the other side and open flat. Place some plastic wrap over the pork and pound to 1/2-inch thickness using a meat mallet or rolling pin.
Remove the plastic wrap and sprinkle the cut side of the pork loin with 1 teaspoon salt, 1/2 teaspoon onion powder and 1/2 teaspoon pepper. Spoon the apple-stuffing mixture lengthwise down the center of the pork loin. Fold one side of the pork loin over stuffing, and roll up to encase the stuffing. Tie the stuffed pork loin with kitchen twine several inches apart, or secure the rolled loin with silicone wraps.
Place the stuffed pork loin, fat side up and seam side down, in the prepared pan. Sprinkle the outside of pork with the remaining salt, onion powder and pepper. Bake until a meat thermometer inserted in the meaty portion of the roast resisters 155 °F, 1 hour and 15 minutes. Remove the roast from the oven and let it rest. Because the roast will continue cooking after removed from the oven, the internal temperature of the roast should reach 160 degrees F while resting. Remove the twine, slice and serve.