Apple Pie with a Sugared Lattice Crust
By
Deen Brothers
JUMP TO RECIPE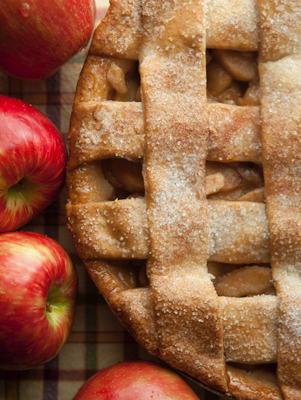 Featured in:
The Deen Bros. Y'all Come Eat
Difficulty: Easy
Prep time: 15 minutes
Cook time: 60 minutes
Servings: 8 to 10
Ingredients
3 pounds mixed apples
3/4 cup granulated sugar
2 tablespoons cornstarch
Finely grated zest of 1 lemon
1 tablespoon freshly squeezed lemon juice
3/4 teaspoon ground cinnamon
Pinch salt
All-purpose flour for dusting
1 15-ounce package rolled refrigerated unbaked piecrusts 2 crusts
2 tablespoons unsalted butter
Milk for brushing
Raw sugar for sprinkling
Directions
Preheat oven to 425°F. Line a rimmed baking sheet with aluminum foil; set aside. In a large bowl, stir together the apples, granulated sugar, cornstarch, lemon zest, lemon juice, cinnamon, and salt; set aside.
On a lightly floured surface, roll dough into two 11-inch circles. Line a 9-inch pie plate with one of the piecrusts. Using a sharp knife, cut the remaining piecrust into 1/2-inch-wide strips.
Spoon the apple mixture into the pie plate and scatter the butter pieces over the apples. Arrange the piecrust strips in a lattice pattern on top. Fold the edges of the bottom crust up to meet the edges of the strips; pinch together to seal and crimp decoratively.
Brush the crust lightly with milk and sprinkle with raw sugar. Place pie on the prepared baking sheet. Bake for 20 minutes. Reduce oven temperature to 375°F. Bake about 40 minutes more or until golden and bubbling. Let cool at least 10 minutes before cutting and serving.