Crunch Top Apple Pie
By
Paula Deen
JUMP TO RECIPE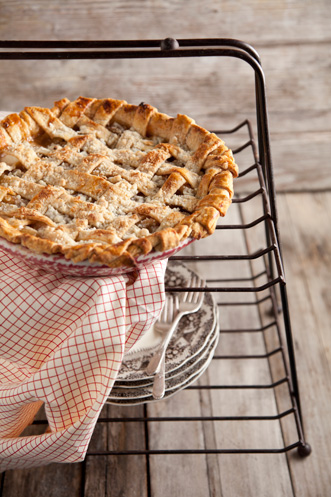 Difficulty: Medium
Prep time: 20 minutes
Cook time: 20 minutes
Servings: 20
Ingredients
3/4 cup plus 4 tablespoons divided sugar
2 1/2 cups plus 4 tablespoons divided all purpose flour
1 teaspoon ground cinnamon
3 1/2 cups cooking peeled and chopped apples
1 (16 oz) jar applesauce
1 tablespoon lemon juice
15 tablespoons 2 tablespoons chopped into small pieces, 1 tablespoon at room temperature and 12 cold and cubed butter
1/4 teaspoon fine salt
1/4 teaspoon plus a dash, divided salt
1/4 cup cold vegetable shortening
1/4 to 1/2 cup (u ice water
Directions
Paula's Perfect Pie Crust:
In a large mixing bowl, sift together 2 1/2 cups flour, 1/4 teaspoon fine salt and 3 tablespoons sugar. Add the shortening and break it up with your hands as you start to coat it with the flour. Add 12 tablespoons of cold butter cubes and work it into the flour with your hands or a pastry cutter. Work it quickly, so the butter doesn't get too soft, until the mixture is crumbly, like very coarse cornmeal. Add the ice water, a little at a time, until the mixture comes together forming a dough. Bring the dough together into a ball. When it comes together stop working it otherwise the dough will get over-worked and tough. Divide the dough in half and flatten it slightly to form a disk shape. Wrap each disk in plastic and chill in the fridge for at least 2 hours. On a floured surface roll each disk out into a 10 to 11-inch circle to make a 9-inch pie.
Yield: 2 (9-inch) pie crusts
Preheat oven to 425 °F.
Line a 9-inch pie pan with half of dough. Combine 3/4 cup sugar, 1 tablespoon flour, cinnamon, and a dash of salt in a bowl. Stir in the apples, applesauce, and lemon juice. Spoon the apple mixture into pie pan and dot with 2 tablespoons butter chopped into small pieces. Cut remaining crust into strips; arrange in a lattice design over top of pie.
For crunch topping:
Combine 3 tablespoons flour, 1 tablespoon sugar and a dash of salt in a bowl. Using a fork, cut in 1 tablespoon room temperature butter until mixture is crumbly. Sprinkle over top of crust. Bake for 10 minutes, then reduce heat to 350 °F and continue to bake for about 45 minutes, or until crust and topping are golden brown.