Apple Cinnamon Oatmeal Casserole
By
Paula Deen
JUMP TO RECIPE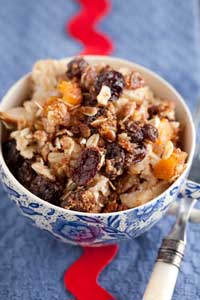 Difficulty: Easy
Prep time: 15 minutes
Cook time: 15 minutes
Servings: 15
Ingredients
2 cups or milk half and half
1/2 cup packed, divided brown sugar
1 tablespoon plus some to dot the top butter
1/2 teaspoon salt
1 cup plus 3 tablespoons quick cooking oats
3 tablespoons divided ground cinnamon
1 cup peeled chopped apple
1/2 cup chopped dried apricots
1/4 cup chopped, plus 2 tablespoons pecans
1/2 cup raisins
2 tablespoons dried cherries
Directions
Preheat the oven to 350 °F. Grease a medium casserole dish.
Combine the half and half or milk, 1/4 cup brown sugar, butter and salt in a heavy saucepan over medium heat. Simmer until the butter is melted and the mixture is smooth. Remove from heat. Add 1 cup oats to a casserole dish and stir in the milk mixture, 2 tablespoons cinnamon, apples, apricots, 1/4 cup pecans, raisins and cherries. Cook's Note: If the casserole seems dry, add milk to moisten.
Top with Cinnamon Oat Nut Topping and dot with butter. Bake for 20 to 30 minutes. Remove from the oven and serve.
Cinnamon Oat Nut Topping:
Combine 1/4 cup brown sugar, 1 tablespoon cinnamon, 3 tablespoons oats and 2 tablespoons chopped pecans in a small bowl until well combined.