Ambrosia
By
Paula Deen
JUMP TO RECIPE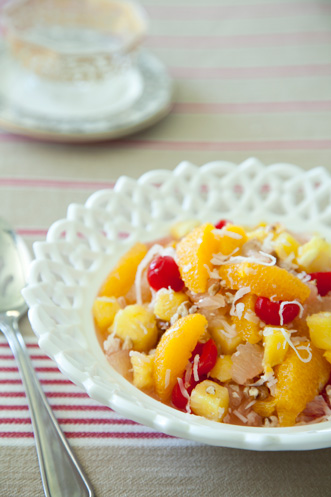 Difficulty: Easy
Cook time: 1 hour
Servings: 10-12
Ingredients
1 bag navel oranges
1 bag (pink if possible, as they are more colorful) grapefruit
1 large fresh (I use 1 large can of pineapple chunks in pineapple juice, 20 oz. can or more or less to taste) pineapple
1 jar drained and cut in halves (optional) maraschino cherries
1 (3 1/2 oz) can optional flaked sweetened coconut
1 cup chopped optional pecans
sliced optional bananas
Directions
Peel the oranges, removing as much of the pith (the white lining under the skin), discarding the pith and the peeling.
Over a large bowl, section the oranges, removing the membranes, any pith left and the seeds, retaining all of the pulp and juice.
Over the same bowl repeat the process for the grapefruit mixing the fruit sections together. Add the fresh, peeled, cored and chopped pineapple or add the canned pineapple including the juice. Stir well to blend the fruits and the juices. Cover the bowl and refrigerate until ready to serve.
Many families like to add other fruit and nuts such as the cherries, coconut, bananas and/or pecans. You may want to serve these additions in small bowls beside the fruit and let each make their own combination. The bananas, coconut and pecans will soften if you have leftovers, so I like to leave the oranges, grapefruit and pineapple separate. These three will keep 3 days easily in the refrigerator.
Yield is based on the size of bags that you purchase.
* Your best friend when preparing this dish is a good, sharp knife. I use a filet knife; the blade is long but narrow and lightweight and very sharp.