Alaskan Salmon Salad with Iceberg Lettuce
By
Deen Brothers
JUMP TO RECIPE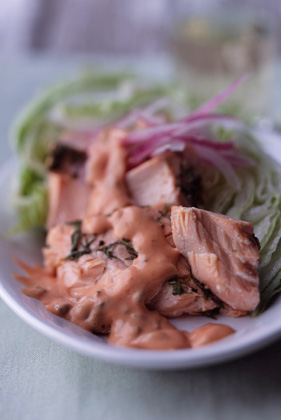 Featured in:
The Deen Bros. Recipes from the Road
Difficulty: Easy
Prep time: 10 minutes
Cook time: 10 minutes
Servings: 2
Ingredients
2 tablespoons ketchup
2 tablespoons mayonnaise
1 tablespoon Dijon mustard
1 tablespoon finely chopped gherkins
1 teaspoon lemon juice
2 8-ounce salmon fillets*
Salt and freshly ground black pepper
2 tablespoons unsalted butter
2 tablespoons lemon juice
1 tablespoon chopped fresh dill
1/2 head iceberg lettuce
1/2 red onion
Directions
In a small bowl, whisk together all the dressing ingredients. Set aside.
For the salad, season each fillet with salt and pepper. In a microwave-safe baking dish, combine the butter and lemon juice. Place the fish in the dish, turning to coat. Sprinkle with fresh dill. Cover dish with plastic wrap and poke several holes in the plastic with a fork. Microwave on high (100% power) for 2 to 3 minutes or until the fish flakes easily with a fork. Once fish is cool enough to handle, remove any skin and flake the salmon into chunks.
Divide the lettuce and onion between two plates. Place salmon chunks on top of the lettuce. Drizzle the dressing over the salad. *Use Alaskan salmon if you can find it.