Air Fryer Low Country Boil
By
Paula Deen
JUMP TO RECIPE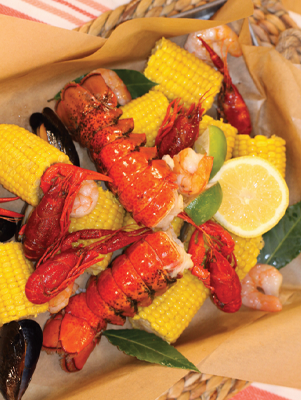 Featured in:
Paula Deen's Air Fryer Cookbook
Difficulty: Easy
Prep time: 15 minutes
Cook time: 10 minutes
Servings: 2
Ingredients
1 cup dry white wine (or water)
2 ears corn, cut in half
½ pound shrimp
6 littleneck clams
1 pound andouille sausage, cut into 1-inch pieces
2 lobster tails (4 ounces each)
1 lemon, cut in half
1 tablespoon shrimp boil seasoning
Directions
Place wine in bottom pan of air fryer, set temperature to 400 degrees, and preheat for 5 minutes.
Add air fryer basket to air fryer pan, leaving wine in place, and fill basket with corn, shrimp, clams, andouille sausage, and lobster tails. Squeeze lemon halves over top of seafood mixture, sprinkle with shrimp boil seasoning, and place lemon halves on top of lobster tails. Set temperature to 350 degrees, and steam for 10 minutes. Serve warm.