Air Fryer Parmesan and Dijonnaise-Crusted Whole Cauliflower
By
Paula Deen
JUMP TO RECIPE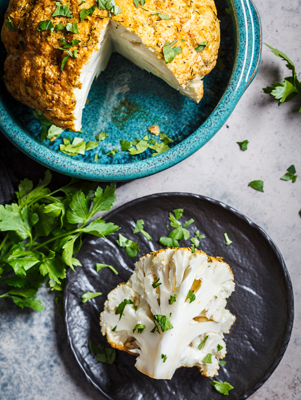 Featured in:
Paula Deen's Air Fryer Cookbook
Difficulty: Easy
Prep time: 20 minutes
Cook time: 30 minutes
Servings: 6
Ingredients
1 large head cauliflower
2 tablespoons Dijon mustard
1 tablespoon mayonnaise
1 teaspoon salt
½ teaspoon freshly ground black pepper
¼ cup grated Parmesan cheese
oil, for spraying
¼ cup fresh parsley
Directions
Remove outer leaves from cauliflower and trim stem flush with bottom of head. In a small bowl, mix mustard and mayonnaise. Cover cauliflower with resulting Dijonnaise. Sprinkle cauliflower with salt and pepper, and press Parmesan cheese into cauliflower.
Spray cauliflower with oil and place in air fryer basket. Set temperature to 350˚F, and air fry for 30 minutes, spraying with oil every 10 minutes. Sprinkle with parsley and serve warm.