Wilmington Island Marsh Mud Cake
By
Paula Deen
JUMP TO RECIPE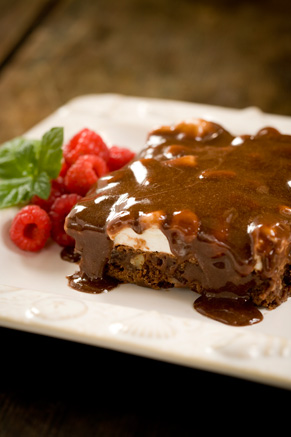 Difficulty: Easy
Prep time: 40 minutes
Cook time: 35 minutes
Servings: 10
Ingredients
1/2 cup plus 1/3 cup for frosting cocoa
1 cup melted, plus 1/4 cup softened for frosting butter
4 beaten eggs
1 1/2 cups all purpose flour
2 cups granulated sugar
1/8 teaspoon salt
1 teaspoon plus 1 teaspoon for frosting vanilla extract
1 1/2 cups chopped pecans
1 (16 oz) box light brown sugar
1/2 cup milk
1 (10.5 oz) package miniature marshmallows
Directions
Preheat oven to 350 °F.
Grease a 13x9x2-inch pan.
Stir 1/2 cup cocoa into mixing bowl with 1 cup butter.
Add eggs, flour, sugar, salt and 1 teaspoon vanilla.
Beat well with a mixer.
Fold in nuts.
Pour into prepared pan and bake for 35 minutes.
While cake is baking, prepare frosting.
Scald the milk.
Beat the brown sugar and 1/4 cup butter together.
Add 1/3 cup cocoa, milk and 1 teaspoon vanilla and beat until smooth.
Remove cake from oven when done and pour marshmallows over hot cake.
Pour frosting over marshmallows on top.