Upside-Down Pumpkin-Filled Chocolate Cupcakes
By
Paula Deen
JUMP TO RECIPE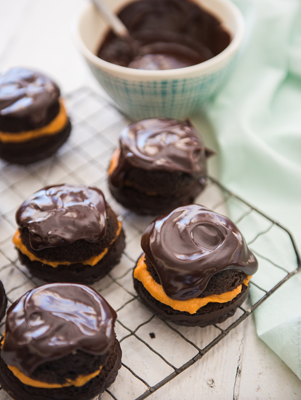 Difficulty: Easy
Prep time: 40 minutes
Servings: 24
Ingredients
1 (15.25 oz) box dark chocolate cake mix
4 oz cream cheese , room temperature
1 cup canned pumpkin
1 cup confectioner's sugar
8 (1 oz) squares semisweet chocolate
3/4 cup heavy whipping cream
Directions
Preheat oven to 350 °F. Spray 2 (12-cup) muffin pans with nonstick baking spray with flour. (Do not use paper liners.)
Prepare cake mix according to package directions for cupcakes. Let cool in pans for 10 minutes. Remove cupcakes from pans, and place, rounded side down, on wire racks to cool completely.
In a medium bowl, beat cream cheese at medium speed with an electric mixer until creamy. Gradually add pumpkin and confectioner's sugar, beating until smooth.
Cut each cupcake in half horizontally. Spread about 2 tablespoons pumpkin mixture evenly over cut side of rounded cupcake halves. Top with cut side of flat cupcake halves.
In a medium bowl, combine chocolate and cream. Microwave on High, in 30-second intervals, stirring between each, until chocolate is melted and cooled. Spoon desired amount of chocolate over flat side of each cupcake. Cover, and chill, or serve immediately.
Note: Cupcakes can be stored, covered, in the refrigerator for up to 2 days.