Uncle Bob's Fresh Apple Cake
By
Paula Deen
JUMP TO RECIPE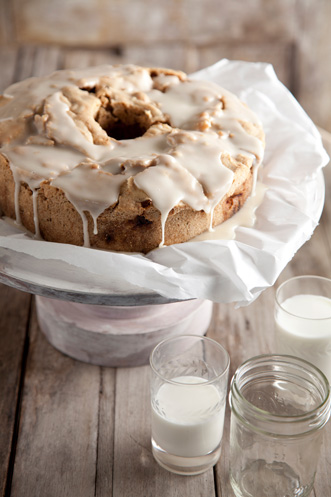 Difficulty: Easy
Prep time: 30 minutes
Cook time: 90 minutes
Servings: 12
Ingredients
1 cup confectioner's sugar
2 tablespoons honey
2 tablespoons milk
3 cups (about 2 apples) Granny Smith apples, diced
1 cup lightly toasted walnuts, chopped
2 teaspoons vanilla extract
2 teaspoons ground cinnamon
3 cups all purpose flour
1 teaspoon baking soda
1 teaspoon salt
2 cups sugar
1 1/4 cups vegetable oil
3 eggs
Directions
Glaze
Add confectioner's sugar, honey and milk to a small bowl and stir until smooth. Set the bowl aside.
Cake
Preheat the oven to 325 °F. Lightly grease a Bundt pan or tube pan.
In a bowl, mix together the apples, walnuts, vanilla and cinnamon. In a separate bowl, sift together the flour, baking soda and salt.
Using an electric mixer beat the sugar, oil and eggs in a large bowl. Add in the dry ingredients and beat until completely combined. Fold in the apple mixture.
Scrape the batter into the prepared pan and bake for 1 hour and 30 minutes or until a tester inserted into the middle of the cake comes out clean.
Allow the cake to fully cool in the pan, about 1 hour, and then turn it out onto a plate.
Drizzle the apple cake with some of the honey glaze, serve and enjoy!
Cook's Note:
The cake can be wrapped tightly and stored in the refrigerator for 3 to 5 days.