Ultimate Fantasy Deep-Fried Cheesecake
By
Paula Deen
JUMP TO RECIPE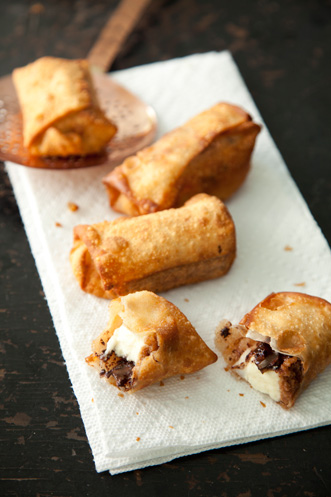 Difficulty: Hard
Prep time: 15 minutes
Cook time: 15 minutes
Servings: 15
Ingredients
2 cups graham cracker crumbs
1 1/4 cups sugar, divided
7 tablespoons butter, melted
3 (8 oz) packages cream cheese, softened
4 eggs, divided
1 (4 oz) bar white chocolate, melted and cooled slightly
vegetable oil, as needed
1 cup milk
30 Oriental spring roll wrappers
1 (4 oz) bar semisweet chocolate chopped
powdered sugar, as needed
whipped cream, for garnish
sprigs of fresh mint, for garnish
chocolate sauce, for garnish
Directions
Cheesecake
Preheat oven to 350 °F.
In a medium bowl, using a wooden spoon, combine cracker crumbs, 1/4 cup sugar and melted butter. Press the mixture firmly on bottom, and 1-inch up the sides of a 9-inch springform pan. Bake for 8 minutes until crumbs become slightly golden in color. Using an electric mixer, in a large bowl, combine cream cheese and 1 cup sugar and blend until fluffy. Beat in 3 eggs, 1 at a time and continue to beat until mixture becomes light, about 3 minutes. Stir in melted white chocolate using a rubber spatula. Carefully pour batter into the prepared crust and bake for 45 minutes. Let cool completely on wire rack. Chill for 8 hours before serving. Cut the cheesecake into uniform pieces approximately 3 by 1-inch in size. Do this 30 times.
Deep-Fried Cheesecake Rolls
Heat vegetable oil in a deep fryer to 365 °F. Whisk 1 egg with 1 cup milk to make an egg wash. Using a pastry brush, lightly moisten each spring roll wrapper with the egg wash. Blot off excess egg wash with paper towel. Place each piece of cheesecake in the middle of a wrapper and sprinkle with the chopped chocolate. Fold top of wrapper down over the cheesecake, and both sides toward the center. Roll each piece of cheesecake toward you until it is completely rolled up making sure the roll is tightly packed with its edges sealed. Place powdered sugar in a medium bowl. Gently place rolls into the oil and cook until golden brown, for about 2 minutes. Using tongs or a spider, remove the golden-brown rolls from the oil and place each roll in a bowl of powdered sugar and coat well. Place deep-fried rolls on paper towels to cool slightly before serving.
Drizzle with chocolate sauce, top with whipped cream and garnish with a mint leaf.