Tybee Grilled Rib-Eye With Fried Oysters
By
Paula Deen
JUMP TO RECIPE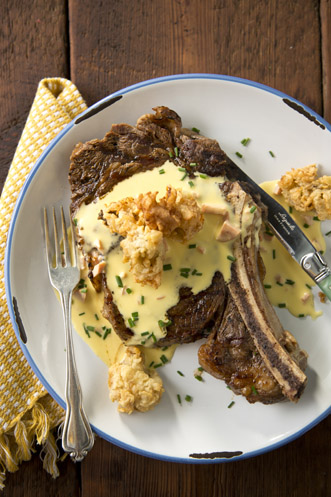 Difficulty: Medium
Prep time: 10 minutes
Cook time: 10 minutes
Servings: 10
Ingredients
4 egg yolks
1/2 cup heavy cream
4 tablespoons cut into pieces butter
1 juiced lemon
1 pinch sugar
1 tablespoons white vinegar
1/4 lb andouille sausage, or Spanish chorizo, diced tasso ham
for frying vegetable oil
3/4 cup all purpose flour
1 pinch paprika
3/4 cup buttermilk
1 lb drained and patted dry shucked oysters
4 (14 oz) bone-in ribeye steaks
salt
pepper
Directions
Hollandaise Sauce:
In the top of a double boiler over barely simmering water, combine the egg yolks, cream, butter, lemon juice, salt and sugar. When the butter has melted, whisk the mixture until thick, 3 to 5 minutes. Remove it from the heat and stir in the vinegar and ham.
Oysters:
In a heavy pot, over medium heat, add 3 inches of vegetable oil and heat to 350 °F.
In a shallow bowl, combine the flour with the paprika, salt and pepper. In a medium bowl, pour the buttermilk over the oysters. Lift the oysters out of the buttermilk, letting any excess drip off, and dredge them in the seasoned flour. Fry them in batches, turning them often, until golden, about 1 minute. Transfer to a paper towel lined plate to drain.
Steak:
Preheat the grill to a medium-high heat.
Season the steaks with salt and pepper, to taste, and grill them over hot coals for 5 minutes per side, until the outside has a nice char and the inside is rare to medium-rare. Transfer the steaks to serving plates and let them rest for 5 minutes. Top each steak with 4 oysters and a large dollop of hollandaise.