Turkey Black Bean Burgers with Corny Salsa
By
Paula Deen
JUMP TO RECIPE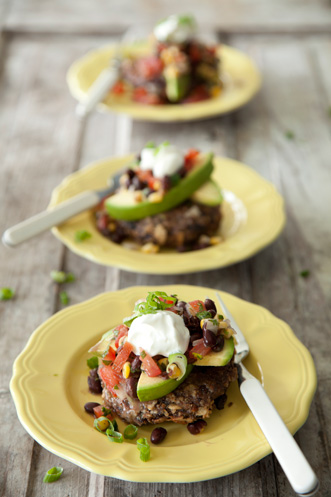 Difficulty: Easy
Ingredients
4 large diced ripe tomatoes
1 finely chopped small onion
1 seeded, de-veined, and chopped jalapeño pepper
3 tablespoons chopped fresh cilantro
1 tablespoon plus 1/4 cup olive oil
2 tablespoons lime juice
1 15-ounce can rinsed, drained, lightly mashed and divided black beans
1 cup thawed frozen corn kernels
1 1/4 lb ground turkey
1 cup crushed tortilla chips
2 teaspoons Paula Deen's House Seasoning
1 tablespoon chile powder
1 tablespoon ground cumin
1 halved, peeled, pitted, and firmly diced, for serving avocado
Directions
For the salsa: In a large bowl, combine tomatoes, onion, pepper, cilantro, 1 tablespoon oil, lime juice, 1/2 can of beans and corn and stir them together. Cover the container and chill the salsa until ready to use.
For the burgers: Preheat the oven to 350 degrees F.
Heat the olive oil in a large skillet over medium-high heat. In a large bowl, combine the turkey, 1/2 can of beans, tortilla chips, House Seasoning, chile powder, and cumin. Use your hands to form the mixture into 8 equal sized patties, working in batches if necessary. Cook the patties until no longer pink in the middle, 4 to 5 minutes per side. Transfer the skillet to the oven and bake for 2 to 3 minutes. Transfer the patties to a paper towel-lined plate to drain.
To serve: Spoon the Corny Salsa mixture over the burgers. Top with avocado slices and sour cream.