Tomato Sandwiches with Dilled Mayonnaise
By
Deen Brothers
JUMP TO RECIPE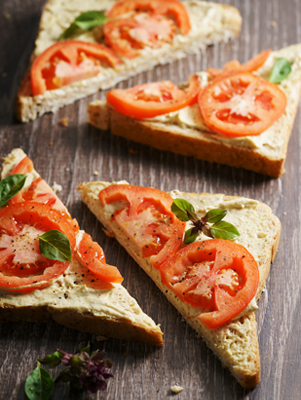 Featured in:
The Deen Bros. Y'all Come Eat
Difficulty: Easy
Servings: 8
Ingredients
1/2 cup mayonnaise
6 tablespoons chopped fresh dill
3/4 teaspoon freshly ground black pepper
8 slices white bread
2 small tomatoes
Salt and additional freshly ground pepper
Directions
In a small bowl, whisk together the mayonnaise, dill, and the 3Ú4 teaspoon pepper. Spread each slice of bread generously with the mayonnaise. Top 4 slices of the bread with tomatoes; lightly sprinkle tomatoes with salt and additional pepper. Cover with the remaining 4 slices bread. Cut sandwiches into halves or quarters.