Tomato-Dill Soup
By
Paula Deen
JUMP TO RECIPE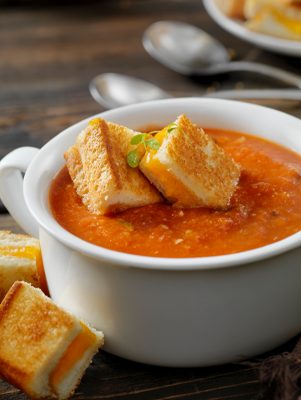 Featured in:
Favorite Recipes of The Lady and Her Friends
Difficulty: Easy
Prep time: 10 minutes
Cook time: 40 minutes
Servings: 6
Ingredients
3 cups peeled and diced fresh tomatoes or one 28-ounce can of crushed tomatoes
1 medium onion, chopped
2 cups chicken stock
1 teaspoon chopped garlic
⅓ to ½ cup white wine
1 teaspoon lemon pepper seasoning
3 tablespoons chopped fresh dill
¾ cup heavy cream
¼ cup fresh parsley
¼ cup Parmesan cheese
salt, to taste
coarse ground black pepper, to taste
Directions
In a large pot, mix all ingredients together except heavy cream, parsley, Parmesan, and salt and pepper. Cook over medium heat about 30 minutes, until tomatoes are tender.
Add cream, parsley, and Parmesan cheese. Season with salt and pepper. Simmer for about 10 minutes.