Three Meat Pasta
By
Paula Deen
JUMP TO RECIPE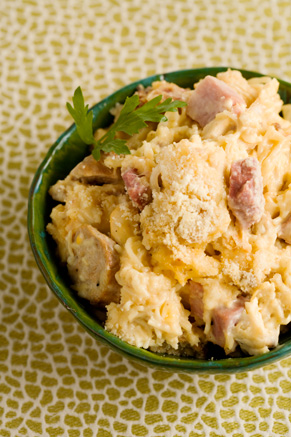 Difficulty: Easy
Prep time: 10 minutes
Cook time: 10 minutes
Servings: 10
Ingredients
1 lb angel hair pasta
2 cups cooked chicken, off the bone
2 cups cooked sausage, cut ½-inch thick
2 cups cooked ham, cubed
1 large yellow onion, chopped
2 cups shredded cheddar cheese
1 can cream of chicken soup
16 oz cottage cheese
½ cup sour cream
3 chicken bouillon cubes
1 cup hot water
1 to 2 cups grated Parmesan cheese
Directions
Preheat oven to 350 °F.
In a large pot, boil salted water for angel hair pasta. When cooked, drain and set aside.
In a large bowl mix together the chicken, sausage, ham, onions, cheddar cheese, cottage cheese, soup, and sour cream. Set aside.
Mix together the drained pasta and meat in a bowl.
In a separate small pot, dissolve bouillon cubes with hot water and pour over the meat and pasta.
Mix all ingredients together.
Pour mixture into a 9 x 12 x 2-inch greased baking dish and top with the Parmesan cheese. Bake for 30 to 35 minutes or until the bubbling around the edges.