The Lady's Brunch Burger
By
Paula Deen
JUMP TO RECIPE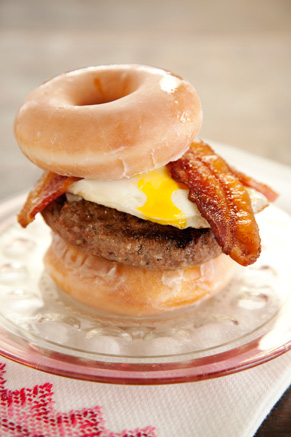 Difficulty: Easy
Prep time: 10 minutes
Cook time: 10 minutes
Servings: 3
Ingredients
2 tablespoons butter
Paula Deen House Seasoning
2 tablespoon grated onion
3 tablespoons chopped fresh parsley
1 1/2 lbs ground beef
3 eggs
6 slices cooked bacon
3 hamburger buns
3 English muffins
6 glazed donuts
Directions
Mix the ground beef, chopped parsley and grated onion together in a large mixing bowl. Season liberally, with House Seasoning. Form 3 hamburger patties.
Heat a large cast iron skillet over medium-high heat and spray with non-stick cooking spray. Add the burgers and cook until desired temperature, 4 to 5 minutes per side for medium-rare.
Fry bacon in a hot pan until crisp. Remove and drain on paper towels. Set aside.
While burgers are cooking, heat a non-stick pan, over medium heat. Add 2 tablespoons butter. Crack 3 eggs into the pan. Cook until the yolks are just set and still slightly runny and remove.
Place burger patties on English muffins or buns, or if desired, on glazed donuts as the buns. Top each burger with 2 pieces of bacon and a fried egg.