The Lady and Sons Beef Vegetable Soup
By
Paula Deen
JUMP TO RECIPE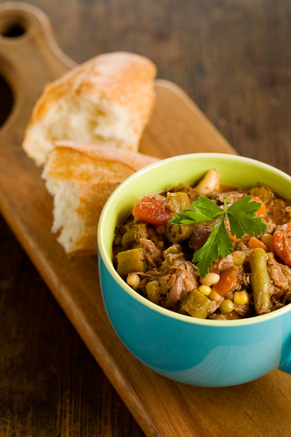 Difficulty: Medium
Prep time: 10 minutes
Cook time: 10 minutes
Servings: 10
Ingredients
1 cup diced potatoes
1 cup fresh or canned corn kernels
1 cup fresh or frozen cut okra
1 cup frozen butter beans
1 cup diced celery
1 cup sliced, fresh or canned green beans
1 cup frozen black-eyed peas
1 cup thinly sliced carrots
1 (28 oz) can diced tomatoes
1 1/2 cups chopped onion
1 teaspoon Worcestershire sauce
1 teaspoon celery salt
1/2 teaspoon black pepper
2 bay leaves
1 tablespoon Paula Deen Seasoned Salt
1 tablespoon Paula Deen's House Seasoning
2 tablespoons beef bouillon granules
3 tablespoons dried parsley
1 teaspoon garlic powder
1 tablespoon dried Italian seasoning
4 quarts cold water
2 tablespoons if using chuck roast vegetable oil
2 1/2 to 2 lbs 2 1/2 to 3 pounds boneless chuck roast beef short ribs
1/2 cup uncooked elbow macaroni
Directions
If using chuck roast, heat the oil in a large skillet over medium heat. Place the roast in the skillet and cook until browned on both sides, about 5 minutes per side. Remove the roast from the skillet and cut it into 1 1/2 to 2-inch cubes; discard the fat. Place the beef cubes in a large stockpot. (If using short ribs, you can put them right in the pot with no preparation).
Add the water, seasonings, onion and tomatoes and bring to a boil over high heat. Cover the pot; reduce the heat so that the liquid simmers, and cook for 1 1/2 to 2 hours, or until the meat is very tender. If using short ribs, remove them from the pot and cut the meat from the bones, discard the bones and fat, and return the meat to the pot. Add the remaining vegetables and the macaroni and return the soup to a boil, stirring to distribute the ingredients. Reduce the heat and simmer for 45 minutes. Just before serving, add fresh parsley to pot. To remove excess fat from the surface of the soup, swirl a lettuce leaf around the surface-it will pick up a lot of the fat.
The chuck roast will yield more meat, but the bones from the short ribs give the soup an incredible flavor.