Beef Stroganoff
By
Paula Deen
JUMP TO RECIPE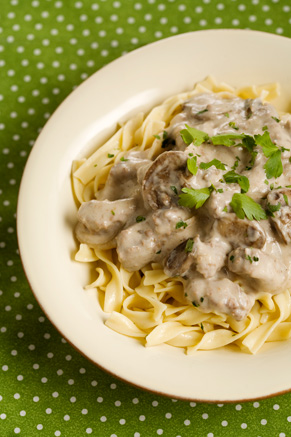 Difficulty: Easy
Prep time: 5 minutes
Cook time: 40 minutes
Servings: 4
Ingredients
1 1/2 lbs cubed cut into thin strips round steak
to taste Paula Deen's House Seasoning
all purpose flour
2 tablespoons olive oil
2 tablespoons butter
1 medium sliced onion
8 oz sliced fresh mushrooms
1 (10 3/4 oz) can beef broth
1 (10 oz) can cream of mushroom soup
1 cup sour cream
cooked egg noodles
Directions
Season the steak strips with House Seasoning, then dust with flour. In a large skillet, quickly brown them on both sides in the olive oil and butter. Remove the steak from the pan.
Add the onion slices and mushrooms to the pan drippings. Sauté for a few minutes, until the onion is tender. Sprinkle with 1 teaspoon flour.
Put the steak back into the pan with the onion and mushrooms. Add the cream of mushroom soup and beef broth. Cook over low heat for about 30 minutes, covered. Adjust seasoning to taste, adding salt and pepper, as needed.
Stir in the sour cream the last few minutes, right before you serve. Serve over cooked noodles.