The Deen Bros. Lighter Crunchy Coconut Chicken Fingers with Pineapple Salsa
By
Deen Brothers
JUMP TO RECIPE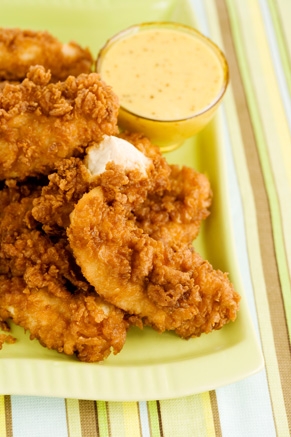 Difficulty: Easy
Prep time: 15 min
Cook time: 15 min
Servings: 4
Ingredients
1/2 cups flaked sweetened coconut
1/2 cup plain panko bread crumbs
2 tablespoons all-purpose flour
1 tablespoon brown sugar
1 teaspoon curry powder
1 pound chicken tenders
1/2 teaspoon salt
2 egg whites
2 8-ounce cans unsweetened pineapple chunks
1/4 cup chopped fresh cilantro
2 teaspoons lime juice
2 teaspoons packed brown sugar
1 small jalapeno pepper
Directions
Preheat the oven to 425°F. Spray a baking sheet with nonstick spray.
Combine the coconut, breadcrumbs, flour, brown sugar, and curry powder on a piece of wax paper. Sprinkle the tenders with the salt. Beat the egg whites in a large bowl until frothy; add the chicken tenders and toss to coat. Lift the chicken from the egg whites one at a time, and coat with the coconut mixture, pressing so the coating adheres. Place the chicken in a single layer on the baking sheet. Spray both sides of the chicken with nonstick spray. Bake until lightly golden and crisp, about 15 minutes, turning once halfway through cooking time.
Meanwhile, to prepare the salsa, toss the pineapple, cilantro, lime juice, brown sugar, and jalapeno in a large bowl. Serve the salsa with the chicken.