Spicy Cinnamon French Toast
By
Deen Brothers
JUMP TO RECIPE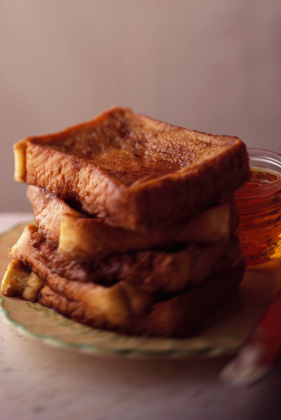 Featured in:
The Deen Bros. Recipes from the Road
Difficulty: Easy
Prep time: 10 minutes
Cook time: 25 minutes
Servings: 6
Ingredients
1 cup packed light brown sugar
1 stick unsalted butter
1½ cups whole milk
2 eggs
1 teaspoon vanilla
1 teaspoon freshly squeezed lemon juice
¾ teaspoon ground cinnamon
pinch of salt
pinch of cayenne pepper
12 slices whole wheat bread
Directions
Preheat oven to 375°F. In a bowl, whisk together the sugar and melted butter. Spread the mixture in a large rimmed baking pan. Set aside.
In a large bowl, whisk together the milk, eggs, vanilla, lemon juice, cinnamon, salt, and cayenne pepper. Dip each slice of bread in the egg mixture and soak for 30 seconds. Transfer to the baking pan. Bake about 25 minutes or until golden, turning halfway through baking.