Festive Spicy Cranberry Sorbet
By
Deen Brothers
JUMP TO RECIPE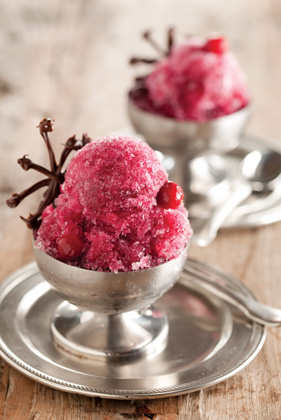 Difficulty: Easy
Prep time: 3 minutes
Cook time: 8 minutes
Servings: 6 servings
Ingredients
2 cups fresh cranberries
1 1/2 cups water
3/4 cup turbinado sugar can substitute white sugar
2 cinnamon sticks
pinch of cayenne pepper
Directions
Line the inside of an 8X4X2 loaf pan with plastic wrap leaving 2 inches of overhang on all sides. Set aside.
In a medium saucepan, add water, sugar, cranberries, cinnamon sticks and cayenne. Cook over medium heat until the mixture comes to a boil, stir a few times to help the sugar to dissolve. Remove from heat and allow to cool slightly.
Remove cinnamon sticks.
Working in two batches, pour one half of the mixture into a blender or food processor and process until mixture is just about smooth. Strain through a fine strainer over a medium mixing bowl. Repeat process with remaining half of cooked mixture.
Stir cranberry mixture (should be about 2 cups) and pour into the lined loaf pan.
Cover with the plastic wrap that is overhanging on the sides and freeze for approximately 2 hours or until the mixture is nearly frozen. At this point, remove from the freezer and using a stainless spoon, stir mixture well, scraping it from the sides of the pan. Cover and freeze 8 hours.
To Serve: Let stand at room temperature for 5 minutes before spooning into dessert dishes.
Garnish with fresh cranberries.