The Lola Burger
By
Michael Symon
JUMP TO RECIPE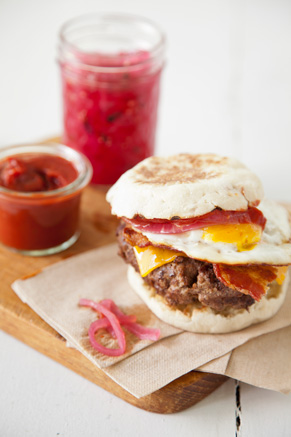 Difficulty: Medium
Prep time: 25 minutes
Cook time: 25 minutes
Servings: 25
Ingredients
8 slices bacon
24 oz 75 percent lean ground beef
4 thin slices cheddar
4 split English muffins
4 large eggs
1 thinly sliced dill pickle
white wine vinegar
sugar
2 lb sliced red onions
2 teaspoons mustard seeds
1 tablespoon plus 1/4 teaspoon divided crushed red pepper flakes
2 tablespoons coriander seeds
2 tablespoons black peppercorns
7 cloves divided, 3 chopped garlic
2 bay leaves
1 tablespoon olive oil
1 small minced yellow onion
kosher salt
5 seeded and minced fresno chiles
1 seeded and minced ancho chile
cracked black pepper
2 tablespoons dark brown sugar
1 tablespoon cumin seeds
1 stick cinnamon
1 6-ounce can tomato paste
2 tablespoons cider vinegar
3 cups water
Directions
*Cook's Note: Michael's favorite mix of meats for this burger is chuck, sirloin, and brisket
Build a medium-hot fire in your grill or preheat a stovetop grill pan.
Cook the bacon in a saute pan over medium-high heat, turning once, until crisp, about 5 minutes. Remove the bacon to paper towels to drain. Reserve the bacon fat in the pan.
Form the ground beef into 4 patties, each about 3 1/2 inches in diameter. Season the patties with salt and cracked black pepper, to taste. Put the burgers on the grill or in the grill pan and cook for 3 minutes. Flip and top each burger with a slice of cheese. Grill for 3 minutes for medium-rare. Remove them to a plate. Add the English muffins to the grill or grill pan and toast for 1 minute.
Cook the eggs sunny side up in the bacon fat while the burgers rest.
Build the burgers by sandwiching them between the muffin halves along with pickle slices, red onion, bacon, an egg and some spicy ketchup.
Pickled Red Onions:
Pack the onions in 2 (1-quart) jars and cover with enough water to come within 1/2-inch of the rim. Pour the water out into a measuring cup. Note the volume, pour off half the water, and replace it with vinegar. Add 2 tablespoons sugar and 2 tablespoons salt for every 3 cups of liquid.
Pour the vinegar mixture into a nonreactive saucepan, add the mustard seeds, 1 tablespoon red pepper flakes, coriander seeds, black peppercorns,4 cloves garlic and bay leaves, and bring to a boil over high heat. Allow the liquid to boil for 2 minutes, and then remove it from the heat.
Pour the hot liquid into the jars to cover the onions and screw on the lids. Refrigerate for up to 1 month.
Spicy Ketchup:
In a nonreactive 2-quart saucepan over medium heat add the olive oil. Add the onion, 3 cloves garlic, and a large pinch of salt. Sauté until translucent, about 2 minutes. Add the Fresno chiles, ancho chile, and 1/4 teaspoon red pepper flakes. Cook for 1 to 2 minutes. Add the brown sugar, cumin, cinnamon, tomato paste and vinegar and simmer for 10 minutes. Stir in 3 cups of water, bring to a gentle simmer, and cook over low heat for 2 hours.
Remove the ketchup from the heat and let cool for 15 minutes. Discard the cinnamon stick. Puree the mixture in a blender and strain through a sieve, pushing down on the any solids. Let cool and pour into a storage container. Cover the container and refrigerate for up to 1 month.