Blackberry Coffee Cake with Streusel Topping
By
Deen Brothers
JUMP TO RECIPE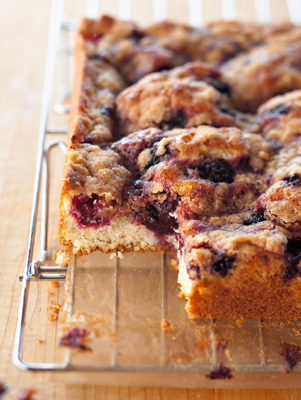 Featured in:
The Deen Bros. Y'all Come Eat
Difficulty: Medium
Prep time: 15 minutes
Cook time: 45 to 60 minutes
Servings: 8 to 10
Ingredients
Topping
⅓ cup all-purpose flour
¼ cup granulated sugar
2 tablespoons packed dark brown sugar
½ teaspoon ground cinnamon
¼ cup (½ stick) cold unsalted butter
Cake
1 cup all-purpose flour
1 tespoon baking powder
½ teaspoon ground ginger
¼ teaspoon salt
¼ cup (½ stick) unsalted butter, softened
½ cup granulated sugar
1 large egg
1 teaspoon vanilla
⅓ cup milk
1½ cups frozen blackberries
Directions
Topping
In a large bowl, stir together the flour, sugars, and cinnamon. Using a pastry cutter or your fingers, cut in the butter until the mixture resembles coarse crumbs. Refrigerate until ready to use.
Cake
Preheat oven to 350˚F. Butter an 8-inch square pan; set aside.
In a medium bowl, whisk together the flour, baking powder, ginger, and salt. In a large mixing bowl, cream the butter with an electric mixer on medium speed. Add the sugar; beat until light and fluffy. Beat in the egg and vanilla. Alternately beat in the flour mixture and the milk until just combined.
Spread the batter evenly in the prepared pan. Scatter the blackberries over the batter. Sprinkle with the streusel topping. Bake for 45 to 60 minutes or until a toothpick inserted in the center of the cake comes out clean. Transfer to a wire rack to cool slightly before serving