The Deen Bros. Lighter Christmas Shepherd's Pie
By
Deen Brothers
JUMP TO RECIPE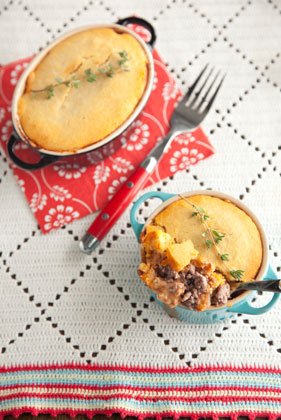 Difficulty: Easy
Prep time: 20 min
Cook time: 55 min
Servings: 6 servings
Ingredients
2 large baking potatoes
1/3 cup reduced-fat 1% milk
1 tablespoon butter
1/2 teaspoon salt
1 pound lean ground turkey
1 tablespoon canola oil
2 portobello mushrooms about 4 ounces each
1 onion
1 carrot
3 garlic clove s
1/2 teaspoon salt
1 1/4 cups reduced-sodium beef broth
1 8-ounce can no-salt-added tomato sauce
1 1/2 cups frozen peas
6 tablespoons shredded Cheddar-Jack cheese
Directions
To make the topping, place the potatoes in a large pot with enough cold water to cover; bring to a boil. Cook until the potatoes are fork-tender, about 15 minutes. Drain and return to the pot. Add the milk, butter, and salt; mash with a potato masher until the potatoes are smooth and creamy. Set aside.
Spray a large nonstick skillet with cooking spray and set over medium-high heat. Add the turkey and cook, breaking it apart with a spoon, until browned, about 5 minutes. Transfer to a bowl.
Add the oil to same skillet and heat over medium-high heat. Add the mushrooms, onion, carrot, garlic, and salt; cook, stirring frequently, until any liquid is evaporated and the vegetables are very tender, about 10 minutes.
Preheat the oven to 400°F. Spray 6 (1-cup) ramekins with nonstick spray.
Return the turkey to skillet. Add the broth and tomato sauce and bring to a simmer. Cook, stirring frequently, until the mixture begins to thicken slightly, about 5 minutes. Remove from the heat and stir in the peas. Evenly spoon the filling into the ramekins. Spoon the potato topping evenly over the filling. Sprinkle each with 1 tablespoon of the cheese. Place the ramekins on a baking sheet and bake until the topping is lightly browned and the filling is bubbly, 20 – 25 minutes. Let stand 5 minutes before serving.